Misplaced Mermaid is a showplace for the mixed media artistic endeavors of Lou Anne Hazel.
Monday, September 12, 2016
Sunday, September 11, 2016
I've been trying to spend some time making digital collages for my own personal enjoyment. Tumblefish Studios from Mischief Circus is retiring from designing kits so I've been shopping and playing.
Credits for Image Components: Tumblefish Studios and Altered Amanda Studios with the help of a vintage pin-up girl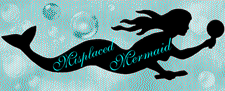 Saturday, September 10, 2016
I found the background for this image and set it aside, waiting for inspiration. There has been a lot of uncomfortable humidity in my area of southern California this summer and I knew I'd be creating a digital collage about it.
Credits for Image Components: Rubyblossoms Background, Tumblefish Studios, Chili Designz, Angels Designs, Anne Valerie, Booklady Designs, Laitha's Designs, and Abbie Graph